1.) GENERAL/CONTROLLER
a)      Information in accordance with Article 13 GDPR
By means of this data protection declaration, GWD – hereinafter referred to as GWD - would like to inform readers and users of the website (users) of the nature, scope and purpose of the personal data processed. Furthermore, data subjects are informed of their rights by means of this privacy policy.
We know that the careful handling of your personal data is very important to you and appreciate your trust in GWD handling this data conscientiously.


b)      Controller within the meaning of Art. 24 GDPR
GWD Industrial GmbH ("GWD")
Stefansdorf 20
4722 Peuerbach
Austria


c)       Privacy Policy
Our privacy policy explains: 
what information we collect and why;
how we use this information;
Your rights as a data subject
We have tried to provide as simple an explanation as possible. 


d)      Legal basis for processing
GWD processes personal data exclusively on one of the following legal bases:
With your consent
Under contract
Legitimate interest
On the website, data is processed exclusively on the basis of the statutory provisions (GDPR, TKG 2003).
In the case of the use of analysis tools, the data is used on the basis of Art. 6 para. 1 lit f) (legitimate interest) of the GDPR. Legitimate interest in the use of data is the improvement of the website as well as the success measurement of online advertising.
The use of IT data security measures is also based on Art. 6 para. 1 lit f) (legitimate interest) of the GDPR. Legitimate interest in the use of data is the protection of one's own IT systems.
The use of social media plugins takes place only after consent. The legal basis is Art. 6 para. (1) lit a) GDPR. Consent must be given again each time the website is accessed.
2.) RETENTION OF PERSONAL DATA

Pursuant to applicable law, according to Art. 5 para. 1 lit. e GDPR, we are obligated to delete your data if the purpose is no longer given and there is no legal basis for data storage.


In any case, data will be saved and stored by us in personal form until the end of the business relationship or until the expiry of applicable guarantee, warranty or limitation periods; in addition, until the end of any legal disputes in which the data is required as evidence; or in any case until the end of the seventh year after the last contact with a business partner.

3.) SUBJECT RIGHTS
In accordance with the General Data Protection Regulation, you have comprehensive rights, such as:
Right to information (Art. 15 GDPR)
Right to rectification (Article 16 GDPR)
Right to deletion (Article 17 GDPR)
Right to restriction of processing (Article 18 GDPR)
Right to data portability (Article 20 GDPR)
Right to objection (Article 21 GDPR)
The right to withdraw consent (Art. 7 para. 3 GDPR)
Right to lodge a complaint (Art. 77 GDPR)
To exercise your rights, please contact
*Please enclose official ID copy.


Without prior successful identification, we cannot process data subject requests. For this reason, we ask you to support the identification accordingly.
If you believe that the processing of your data violates data protection law or your data protection rights have been otherwise violated in any way, you can complain to the supervisory authority. In Austria, this is the data protection authority, Wickenburggasse 8, 1080 Vienna.

4.) DATA TRANSMISSION/DATA TRANSFER

a)      Transfer of data to third parties
Your personal data will not be shared with third parties for purposes other than those listed in the following.
We will only share your personal information with third parties if:
you have given your express consent pursuant to Art. 6 para. 1 lit. a GDPR, the disclosure is necessary for the assertion,
exercise or defense of legal claims pursuant to Art. 6(1) sentence 1 (f) GDPR for the assertion, exercising or defence of legal claims and there is no reason to believe that you have an overriding interest in not disclosing your data,
in the event that disclosure pursuant to Art. 6 para. 1 sentence 1 (c) GDPR is a statutory obligation; and
this is legally permissible and required according to Art. 6.  para. 1 S. 1 lit. b GDPR for the processing of contractual relationships with you.
GWD may share your personal data with suppliers who provide services on our behalf in accordance with our instructions.
GWD may also share your personal information with our affiliates and partners.
In addition, GWD may disclose your personal information if we are required to do so by law, regulation or governmental authority, or if we believe disclosure is necessary or appropriate to prevent physical harm or financial loss.
GWD reserves the right to transfer personal information we hold about you when we sell or transfer all or part of our business or assets (including in the event of a restructuring, dissolution or liquidation).

b)      Data transfers
GWD may also transfer your personal data to countries outside of the country where the information was originally collected. These countries may not have the same data protection laws as the country in which you originally provided the personal information. If we transfer your information to other countries, we will protect that information as described in this privacy policy, and those transfers will be governed by applicable law.
The countries with which we share the personal data are located
• within the European Union or
• outside the European Union
When we transfer personal data from the European Union to countries or international organisations outside the European Union, the transfer is made on the basis of:
an adequacy decision of the European Commission;
Failure to do so for other lawful reasons, such as the existence of a legally binding and enforceable document between authorities or public bodies, binding internal company rules, standard data protection clauses, and approved or certified codes of conduct.
In exceptional cases, data may also be transferred on the basis of Art. 49 GDPR:
Art. 49 para. 1 lit. a GDPR
, the data subject has expressly consented to the proposed data transfer after having been informed of the possible risks of such data transfers without an adequacy decision and without appropriate safeguards,
Art. 49 para. 1 lit. b GDPR
The transfer is necessary for the fulfilment of a contract between the data subject and the controller or the implementation of pre-contractual measures taken at the data subject's request;
Art. 49 para. 1 lit. c GDPR
The transfer is necessary for the conclusion or performance of a contract concluded in the interest of the data subject between the controller and another natural or legal person;
5.) DATA COLLECTION AND PROCESSING

a)      Online contact form
By means of a contact form you can send inquiries, suggestions and requests to GWD.
In order to be able to contact us, it is necessary that you provide the following data:
Company/Name
Data on accessibility (telephone, e-mail, …)
You acknowledge that the aforementioned data will be processed by GWD for the purpose of processing or responding to your request.
Processing is carried out on the basis of our legitimate interests in accordance with Art. 6 para. 1 lit. f GDPR.

b)      Complaint management
As part of a complaint handling, we collect and store your data and forward it if necessary. Collection, storage and transfer is therefore carried out for the purposes of fulfilling the contract and on the basis of Art. 6 para. 1 lit. b GDPR and, if applicable, for the purpose of fulfilling a legal obligation of the controller on the basis of Art. 6 para. 1 lit c GDPR. Failure to provide this data may result in the complaint not being able to be processed.
Any further processing will only take place if you have given your consent or if legal permission has been granted. In some cases, we use external service providers based in the European Economic Area to process your data. These service providers have been carefully selected by us, commissioned in writing and are bound by our instructions. The service providers will not pass on this data to third parties but delete it after the fulfilment of the contract and the conclusion of legal storage periods, unless you have consented to further storage.
We may transfer personal data from this proceedings to our lawyer and the competent court. This is done in accordance with the legal requirements, insofar as it is necessary to protect our legitimate interests and the legitimate interests of third parties and there is no reason to assume that your interests or fundamental rights and freedoms, which require the protection of personal data, prevail.
Processing is carried out on the basis of our legitimate interests in accordance with Art. 6 para. 1 lit. f GDPR.

c)       Applications
By sending your application to GWD, you expressly agree that GWD processes and stores your personal data. Possible transfer, processing and use are limited to the purposes of personnel search and personnel administration.
Processing may also be carried out electronically. This is particularly the case if you have submitted your application documents electronically, for example by e-mail or via our career portal.
Should an employment contract arise from the application, your transmitted data will be further processed in compliance with the statutory provisions.
However, if no employment contract is created, your application documents will be deleted in accordance with the law after a 6-month retention period has expired, provided that deletion does not conflict with any other legitimate interests.

d)      Trade fairs/exhibitions
At trade fairs, we may collect personal data for the purpose of subsequent contact within the framework of the topics discussed at the trade fair.
The processing of your personal data takes place on the basis of your consent in accordance with Art. 6 para.1 lit. a as well as our legitimate interests in accordance with Art. 6 Para. 1 lit. f GDPR.

e)      Server log
When you visit our website, the browser used on your device automatically sends information to the server of our website. This information is temporarily saved in a so-called log file. The following information is recorded without your intervention and stored until it is automatically deleted:
IP address of the requesting computer,
The date and time of access
Name and URL of the accessed fil,
Website of origin (referrer URL),
the browser used and, if applicable, the operating system of your computer as well as the name of your access provider.
The possibility to use these data on legal grounds according to Art. 6 para. 1 lit. f GDPR for purposes such as
ensuring a smooth connection to the website,
ensuring comfortable use of our website,
evaluation of system security and stability and
for other administrative purposes,
is currently being considered by us. Under no circumstances will the data collected be used to draw conclusions about your person.


6.) USE OF COOKIES
Basically, we collect information when you visit our websites. This information is referred to as a "cookie". Together with the information you have made available to us, we can tailor your visits to our website even better to your needs.


"Cookies" are small files that allow GWD to store information specific to you, the user, on your PC or digital device while you visit the websites. The website uses or sets cookies in accordance with EU and Austrian law (Art. 5 (3) E-Privacy Directive and § 96 (3) TKG 2003). Cookies help us to determine the usage frequency and the number of users of our Internet site and allow us to design our offers so that they are as convenient and efficient as possible for you. The content of the cookies used is usually limited to an identification number and usage data that does not allow any personal reference to the user.


It is also possible to use our offers without cookies, but this may be restricted.
When cookies that contain personal data or that affect your privacy are used or set, GWD first obtains your proactive consent, in that you are required to navigate through a banner on our website that provides information about the purposes for which the cookies are being used, thus giving your consent to the setting of cookies.


For us, data protection is an essential contribution to customer satisfaction. In your browser, you can deactivate the saving of cookies, limit them to particular websites, or set the browser to notify you when a cookie is sent. You can delete cookies from the hard disk of your computer at any time. Please note, however, that in this case you have to expect a limited presentation of the page and a limited user guidance.
https://support.google.com/accounts/answer/61416?co=GENIE.Platform%3DDesktop&hl=de
a)      Cookie details
The law states that we can store cookies on your device if they are strictly necessary for the operation of this site. We need your permission for all other types of cookies.

The websites of this domain (gwd-industrial.com) use the following cookies:
Necessary cookies
Necessary cookies help make a website usable by enabling basic functions like page navigation and access to secure areas of the website. The website cannot function properly without these cookies.
The use of necessary cookies on our website is permitted without your consent. These cookies do not identify you as an individual. The legal basis for processing personal data is your consent under Art. 6 para. 1 lit. b of the GDPR.
However, you have the option of deactivating cookies in your browser at any time.


Performance and Statistics Cookies
Statistics cookies help website owners understand how visitors interact with websites by collecting and reporting information anonymously.
The legal basis for the processing of performance and statistical cookies is Art. 6 para. 1 lit. f GDPR. In this context, our legitimate interest is the optimisation and improvement of our website.

Marketing Cookies
Marketing cookies are used to track visitors to websites. The intention is to display ads that are relevant and appealing to the individual user and are therefore more valuable to publishers and advertising third parties.
The legal basis for processing is your consent under Art. 6 Para. 1 lit. f GDPR. Our legitimate interest in this context is the display of targeted advertising content and the increase of our advertising efficiency.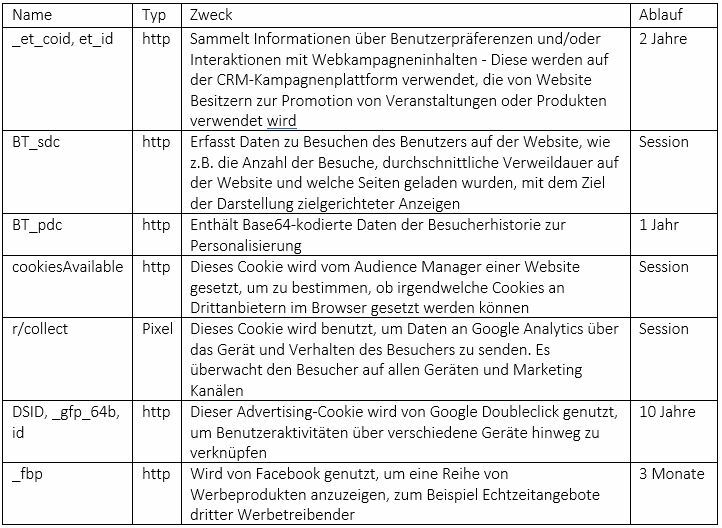 7.) USE OF GOOGLE TOOLS


)      Use of Google Analytics
This website uses Google Analytics, a web analytics service provided by Google Inc. (hereinafter referred to as Google). Google Analytics uses "cookies", i. e. text files stored on your computer that enable your website use to be analysed. Cookie-generated information about your use of this website is usually transmitted to and stored on a Google server in the USA. However, because IP anonymisation is activated on this website, Google will store your IP address in shortened form if you are accessing this site from within the European Union or the European Economic Area. Only in exceptional cases will the full IP address be transferred to a Google server in the USA and truncated there. Google will use this information on behalf of the operator of this website to evaluate your use of the website, to compile reports on website activity, and to provide other services regarding website activity and internet usage for the website operator. The IP address provided by your browser in the framework of Google Analytics will not be combined with other data from Google.
You may refuse the use of cookies by selecting the appropriate settings on your browser. However, please be advised that if you opt out of using cookies, you may not be able to use all the features of this website. You can also prevent the collection of data that is produced by cookies and associated with your use of the website (including your IP address), its transmission to, and its processing by Google, by downloading and installing the browser plug-in available at the following link: 
Browser add-on to disable Google Analytics.
Processing is carried out on the basis of our legitimate interests in accordance with Art. 6 para. 1 lit. f GDPR.

b)      IP anonymisation
We use the "Activation of IP anonymisation" function on this website. Thus, your IP address will be truncated by Google within the member states of the European Union or in other parties to the Agreement about the European Economic Area. Only in exceptional cases will the full IP address be transferred to a Google server in the USA and truncated there. On behalf of the operator of this website, Google will use this information to analyse your use of the website, compile reports regarding website activity, and provide other services to the website operator related to website and internet usage. The IP address provided by your browser in the framework of Google Analytics will not be combined with other data from Google.

c)       Google Analytics Remarketing
Our websites use the features of Google Analytics Remarketing combined with the cross-device capabilities of Google AdWords and DoubleClick. This is operated by Google Inc., 1600 Amphitheatre Parkway, Mountain View, CA 94043, USA.
This function enables the target groups created with Google Analytics Remarketing to be linked with the cross-device functions of Google AdWords and Google DoubleClick. This allows advertising to be displayed based on your personal interests, identified from your previous usage and surfing behaviour on one device (e.g., your mobile phone), on other devices (such as a tablet or computer).
Once you have given your consent, Google will associate your web and app browsing history with your Google Account for this purpose. That way, any device that signs into your Google Account can use the same personalised promotional messaging.
To support this feature, Google Analytics collects Google-authenticated user IDs that are temporarily linked to our Google Analytics data to define and create cross-device ad targeting.
You may permanently object to cross-device remarketing / targeting by disabling personalised advertising in your Google Account by following this link:
https://www.google.com/settings/ads/onweb/.
The aggregation of the data collected in your Google Account data is based solely on your consent, which you may give or withdraw from Google (Art. 6 para. 1 lit. a GDPR). For data collection operations not merged into your Google Account (for example, because you do not have a Google Account or have objected to the merge), the collection of data is based on Art. 6 para. 1 lit. f GDPR. The legitimate interest arises from the fact that the website operator has an interest in anonymous analysis of website visitors for advertising purposes.
Further information and the data protection regulations can be found in Google's Data Protection (Privacy) Policy at:
https://www.google.com/policies/technologies/ads/.

d)      Use of Google Tag Manager
This website uses Google Tag Manager. This service allows website tags to be managed through a single interface. The Google Tag Manager only implements tags. No cookies are set and no personal data is collected. The Google Tag Manager triggers other tags that may collect data. The Google Tag Manager does not access this data. If deactivation occurs at domain or cookie level, it remains in use for all tracking tags, insofar as they are implemented with Google Tag Manager. More information about the Google Tag Manager can be found under the following link: http://www.google.de/tagmanager/use-policy.html.
The user has the possibility to prevent the sending of all tags of the Google Tag Manager. For this purpose, the user must click on the following opt-out link in order to store the Google Tag Manager deactivation cookie in his browser.
For more information,see the usage guidelines at:
http://www.google.de/tagmanager/use-policy.html.

e)      Use of Google Adwords Conversation Tracking
We participate in the Google AdWords online advertising program and its conversion tracking. Google Conversion Tracking is an analysis service provided by Google Inc. (1600 Amphitheatre Parkway, Mountain View, CA 94043, USA; "Google"). If you click an advertisement run by Google, a cookie for the conversion tracking is saved on your computer. These cookies expire in 30 days and do not contain personal data and therefore cannot be used to identify a person. 
If you visit specific webpages of our website and the cookie has not yet expired, Google and we can identify that you have clicked on the advertisement and were forwarded to this page. Each Google AdWords customer receives a different cookie. Therefore, there is no way for cookies to be tracked through the websites of advertisers.
The information gathered by this conversion cookie helps generate conversion statistics for AdWords customers who have opted into conversion tracking. Here, customers can find out the total number of users who have clicked on their advert and were directed to the page using the conversion tracking tag. However, advertisers do not obtain any information which can be used to identify you personally.
If you do not wish to take part in the tracking, you can disagree to this use by not installing the cookies through a corresponding setting of your browser software (deactivation option). By doing so, you will not be included in the conversion tracking statistics. You can find more detailed information and Google's Privacy Policy at: 
http://www.google.com/policies/technologies/ads/, 
http://www.google.de/policies/privacy/.

f)        Use of Google Maps
This website uses Google Maps API to display geographical information. When Google Maps is used, Google also collects, processes and utilises data about the visitor's use of map functions. For more information about how Google processes your information, please see Google Privacy Notices. There, you can also access the Data Protection Centre to change the protection settings for your personal data.
Detailed instructions for managing your own data in connection with Google products can be found here.

g)      Use of script libraries (Google WebFonts)
In order to present our contents correctly and in a graphically appealing way across all browsers, we use script libraries and font libraries such as Google WebFonts (https://www.google.com/webfonts/) on this website. Google WebFonts are loaded into your browser's cache to avoid multiple loading. If your browser does not support Google WebFonts or does not allow access, content will be displayed in a default font.
Calling script libraries or font libraries automatically triggers a connection to the library operator. In theory, it is possible, though it currently still remains unclear whether and, if so, for what purposes, the operators of the corresponding libraries might collect data.
You can find the privacy policy of the Google library operator here: 
https://www.google.com/policies/privacy/
In addition, or as an alternative to the browser add-on, you can prevent tracking by Google Analytics on our pages:
exclude from Google Analytics tracking
h) Use of Visalbe Tools

GWD Industrial GmbH uses products and services for analysis and marketing purposes, which are provided by Visable GmbH (www.visable.com) in cooperation with them. To that end, pixel-code technology is used to collect, process and store data in order to create at least pseudonymised, but where possible and sensible, completely anonymous user profiles. Data collected, which may initially still include personal data, is transmitted to Visable or is collected directly by Visable and is used to create the aforementioned user profiles there. Visitors to this website are not personally identified and no other personal data is merged with the user profiles. If IP addresses are identified as personal, they are immediately deleted. You can object to the processing operations described with future effect at any time: <a onclick="alert('Your visits are no longer recorded.');" href="javascript:visableLeads.optOut()">Exclude visitor recording (Note: Link sets a 1st-party cookie for an opt-out)</a>
8) SSL encryption
We use state-of-the-art encryption methods (e.g., SSL) via HTTPS, to protect the security of your data during transmission.You can recognise an encrypted connection by the string "https://" and the lock icon in your browser's address bar.
9.) EMBEDDED YOUTUBE VIDEOS
We embed YouTube videos on some of our pages. The operator of these plug-ins is YouTube LLC, 901 Cherry Ave., San Bruno, CA 94066, USA. As soon as you visit a page with a YouTube plugin, a connection to YouTube servers will be established. This will inform YouTube which pages you are visiting. YouTube can recognise your surfing habits if and when you are logged into your YouTube account. You can prevent this by logging out of your YouTube account beforehand.

If a YouTube video is started, the provider uses cookies that collect information about user behavior.
If you have deactivated the storage of cookies for the Google Ad program, you will not have to deal with such cookies when watching YouTube videos. YouTube also stores information on usage which is not related to individuals in other cookies. You must configure your browser to block cookies if you wish to prevent this.


Further information on data protection at "Youtube" can be found in the provider's privacy policy at: 
https://policies.google.com/privacy
 
10.) USE OF SOCIAL PLUG-INS
Our site uses social plug-ins ("plug-ins") from the social network Facebook, which is operated by Facebook Inc., 1601 S. California Ave, Palo Alto, CA 94304, USA ("Facebook"). You can find an overview of the Facebook plug-ins and what they look like
here: https://developers.facebook.com/docs/plugins

In order to increase the protection of your data when visiting our website, the plug-ins are integrated into the site using the so-called "2-click" or "Shariff" solution. This integration ensures that when a page of our website that contains such plug-ins is called up, no connection is yet established with the Facebook servers. Only when you activate the plug-in and thus giving your consent to transmission of data, your browser makes a direct connection to Facebook servers. Facebook will transfer the content of the plug-in directly to your browser and embed it into the page. The plug-in then transmits data (including your IP address) to Facebook. We have no influence on the amount of data that Facebook collects with the help of this plug-in. To the best of our knowledge, Facebook will in any case receive information about which of our websites you have currently and previously accessed. By integrating the plug-ins, Facebook learns that your browser has visited the relevant page of our website if you don't have a Facebook profile or aren't logged in. This information (including your IP address) is transmitted by your browser directly to a Facebook server in the USA and stored there. When you interact with the plug-ins, e. g., you press the "Like" button, the corresponding information is also transmitted directly to a Facebook server and stored there. The information is also published on Facebook and displayed there to your contacts.
For the purpose and scope of data collection and the further processing and use of the data by Facebook, as well as your rights in this regard and settings options for protecting your privacy, please refer to Facebook's privacy policy at http://www.facebook.com/policy.php
If you are a member of Twitter's social network and wish to limit the collection of information about our site and the aggregation of your user data with the information about you stored on the Twitter social network, you should log out of Twitter before visiting our site. You can completely block the loading of plug-ins with add-ons for your browser, e.g., using the "NoScript" script blocker(http://noscript.net/).
11 USE OF LINKEDIN
We also use features of the Linkedin platform. More specific details are found HERE.
12.) AMENDMENTS AND ADDITIONS
We reserve the right to make changes or additions to the information content at any time and without notice. Insofar as any part of or individual formulation within this text is not, no longer or not fully in conformity with the respectively applicable law, the remaining parts of the document will remain unaffected in terms of their content and validity.
As of 08/2021